Products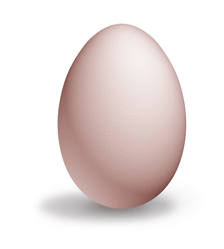 Walt Medical's OEM Products & Systems Group designs and develops Products & Systems for our Clients, under Contract, or thru Staffing. Of course our Services are "products" for us, in that sense.
But we also are building a select portfolio of our own Products, and which will grow as time goes on. These will typically be Products that are inspired thru our experience with our Clients, offered as helpful "tools" which we've standardized for rapid deployment and use, productivity, and profit.
Please bookmark this page and check back often to see what's new in the Walt Medical Product offerings.
Quality Management Systems - Walt Medical Editions!
Walt Medical Editions! - Overview
Walt Medical's first Product is a Quality Management system line for Startup & Small Company Manufacturers — Walt Medical Editions!
Developed over years of Service to the Industry, this Quality Managment system has stood the test of multiple ISO Audits (two full Cert cycles), Products obtaining CE mark, FDA/EU/Health CAN (CMDCAS) compliance, and includes Risk Management.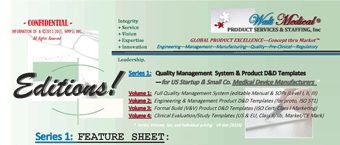 This exclusive Product (each Series, Series1 shown) is offered via DVD, directly from Walt Medical
(we are seeking select, qualified Distributors as well)
and is designed to help Customers solve an immediate need of ISO13485 Certification. But we also demonstrate our proficiency as long-term Service provider, and appreciate opportunity for the greater business.
We offer the Base Package under limited license agreement (exclusions apply), and is a "ready-to-run" System that can be installed within your Organization's IT environment within a day or two. We offer basic Training for select Personnel, and more extensive "customization" of procedures and/or training via our normal Contracting and/or Staffing solutions.
We are highly confident we have an "Quality", and effective Product here that can take your Organization to the next level, open new Markets, and save your Organization substantial product development time, cost, and risk. Click the link below to request an appointment to share your need. For appropriate requests we will arrange an online or onsite presentation aimed at resolving your questions, and finalizing your purchase.
Request an Appointment to share your need and learn more!
Walt Medical Editions! - Executive Summary
The COST of Non-Compliance (failure to execute to Requirements) grows
EXPONENTIALLY:
•
during product development
— from concept thru design, prototyping, verification, validation, pre-clinical/clinical, market /post-market.
•
by Product complexity
— including Performance, Risk Classification including human-boday contact, requirements for Sterilization, etc.
•
by extent of use of Suppliers
— whether "Outsourced Design" and/or Virtual Manufacturing" Suppliers are used, etc
Editions! provides all the SOPs for an Enterprise to successfully Operate to the Regulations, including Product Design & Development (D&D) Templates of substantial value which help to minimize Management and Technical resource time - and thereby Investors' Risk and Total Cost!
Editions! is a proven-effective, ideal suite for Startups or Small Companies wishing to implement an essential Quality Management System for the first time, launch a critical new Product, meet new Regulations and/or deliver a new level of Quality.
We assist Customers/Clients in reaching the next level of Product Development, Quality and Compliance!
Walt Medical Editions! - Family of Products
| SERIES | VOLUMES | DESCRIPTION |
| --- | --- | --- |
| S1: | V1, 2, 3, 4 | QMS & Product D&D Templates—for US Startup & Small Co. Medical Device Manufacturers |
| S2: | V1, 2, 3 | QMS & Product D&D Templates— for US Startup & Small Co. OTC Pharma Manufacturers |
| S3: | V1, 2, 3 | QMS & Product D&D Templates— for US Startup & Small Co. Cosmetics Manufacturers |
| S4: | V1, 2, 3 | QMS & Product D&D Templates— for US Startup & Small Co. Cosmetics & OTC Pharmaceuticals Manufacturers |
| S5: | V1, 2, 3, 4 | Integrated QMS & Product D&D Templates—for US Startup & Small Co. Manufacturers (3 industries above) |
VOLUME1:
Full Quality Management System for Low-Medium Risk Products
(editable Manual MS Word & Access (®), SOPs (Level I, II, III), US/EU/CAN compliant, PC/Network (prem. Multi-site or Cloud-based)
VOLUME2:
TEMPLATES for Low-Medium Risk Product Engineering & Management Design & Development
(for Proto Development phases, thru ISO ST1 Audit)
VOLUME3:
TEMPLATES for Formal Verification & Validation, Build, Testing
(for V&V Phases, thru ISO Certification, incl. Class I Self-Cert Registration/Marketing Notice)
VOLUME4:
TEMPLATES for STERILE Product and those requiring Clinical Study/Evaluation
(incl. for (US) Class II (510K, De Novo); (EU) Class Is/IIa/IIb and CE Mark/Marketing);
VOLUME5:
(COMING 1Q2018)
TEMPLATES for High-Risk Products Engineering & Management D&D for Class (US)III, (EU)III, (CAN)IV &heavy Onsite Manufacturing
(for Formal Product Build, V&V, Onsite Production, for High-Risk Devices, thru ISO 13485 Cert)
Walt Medical Editions! - Product Highlights!
Supports "essential Internal" Product D&D activities!

— Management, Engineering, Purchasing, Quality, Regulatory, Manufacturing

Supports "key Outsourcing" of "Virtual Manufacturers"!

— Sterilization services, Contract Engineering & Manufacturing (CE/CM)

Supports multiple Product Types and Classifications!

— Mechanical, Electro-Mechanical & SW Systems— Class I/Is, II/IIa/IIb (US/EU)

Supports multiple Legal Domains!

— US 21 CFR 820 (QSR), EU MDD 93/42/EEC, Health Canada.

Proven (Resulted in) Certification(s)!

— Certified compliant QMS, by an accredited Registrar to EN ISO13485:2016, with extensions to comply with CMDCAS (Health Canada), including by definition compliance to EN ISO14971:2012 for Risk Management — to Classes I thru IIb (Medical Device Aseptically clean by gamma irradiation (mechanical device) — thru two (2) full Cert Cycles, no open ISO Findings (Corrections or Corrective Action) — written in accordance with Global Harmonization Task Force GHTF) GHTF/SG3/N17:2008 guidance for Control of Products & Services from Suppliers

Resulted in US (CA) State Licensing!

— California Department of Public Health inspected facility & product to V1, V2, V3.

Includes Volumes (SOPs) which can be purchased as you need and grow!

— All of Editions! Or by Volume! Or in Sets. Or Individually. PLUS Update Plans. S1/Volume1: Level I Quality Manual, Level II SOPs (14), Level III SOPs (24); S1/Volume2: Level IV(18) EU(2); S1/Volume3 Level IV (13); S1/Volume4 Level IV (6); Volumes 1-2 suitable for prototype stage thru Initial ISO Cert Stage (ST1); Volume 3 required for formal build (V&V, etc.) and Marketing/CE Mark (required also for final Cert stage/Certification); Volume4 Required for Clinical Study

Option to Include Comprehensive Product D&D Template Packs!

— All phases of Development, Concept, Prototype, Verification, Validation, Manufacturing Transfer, Post-Market

Includes QA Mgr Setup & Basic Staff Training!

— Onsite for full Editions! or minimum 3 Volume(s) purchase. Else by Skype®,etc. 1hr/Volume.

Includes (limited) Post-purchase Editions! email Q&A!

— For 3months, to 2hrs total. 24hr response typical M-F. 1Yr of Quarterly updates!

Includes option to request Consulting/Contracting Quote(s)!

Post-purchase, qualified OEMs only, complete WMPSS Inc RFQ form, and mutual agreement.
Registration and Purchasing Co agreement to Limited Warranty &SW License Agreement required. All sales final (Non-Refundable)

"Thanks for the excellent orientation yesterday. This system will really help us accelerate our plans! I'll let you know if we have any... basic questions as I plow through the multitude of documents!"
VP of Business Development, Startup Catheter Company, SoCal.
Request an Appointment to share your need and learn more!